Environmental Services
The Lawrence County Health Department is dedicated to protecting the health and welfare of our community and its citizens. Our registered sanitarians are educated and trained in a multitude of programs related to the enforcement of public health regulations for environmental health and community safety.
CLICK HERE to get an online copy of all your environmental health forms.
CONTACT: Richard Helton, richardl.helton@ky.gov
Facilities
Food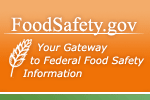 FOOD MANUFACTURING (PDF DOWNLOAD)
FOOD SAFETY BRANCH
Food Certifications
Each food service establishment shall have at least one employee be a certified food protection manager who has supervisory and management responsibilities and the authority to direct and control food preparation and service as required by the FDA Food Code 2013. Also, each food service establishment shall have a Person-In-Charge (PIC) present at the establishment during all hours of operation.
In addition to the FDA Food Code 2013 requirements, the Lawrence County Health Department requires all food service establishment employees be certified food handlers.
You can go online using Google Chrome and Firefox browsers to get certified at https://ky-lawhd.statecert.com/login.
PLEASE READ ALL INSTRUCTIONS THOROUGHLY
Upon opening the website:
Select "Register" in the upper right-hand corner
Enter your information and receive a confirmation email
Confirm your email address by clicking the link in the confirmation email
Select "Get New License"
Select "Food Manager Certification" $80 or "Food Employee Certification" $25
Take the course and exam
Upon passing the exam print your certificate (an electronic certificate is also available)
NOTE: Each individual food service employee shall register with his/her own name, email, password, and information.
COMING SOON: An R-code will be available for establishments to purchase multiple licenses and distribute to employees to register and take the course.
Onsite Sewage
The Onsite Wastewater Program is administered through local health departments and begins with the use of onsite evaluations to determine if site and soil conditions are suitable for onsite wastewater systems. Certified inspectors perform site evaluations and inspections in Kentucky and certified installers must install systems unless a homeowner wishes to install his or her own system and obtains a homeowner's permit.